Shimmering Bronzer
The Cosmetic Company's shimmering bronzers are a great way to achieve a shimmering, healthy looking year-round tan. Apply to your chin, cheeks and forehead for a luminous glow available in two shades to accommodate fair to dark complexions. Add a hint to your blush to add a shimmer and iridescent glow. Can also be used as a highlighter.
Comes in deluxe black matte round compacts with a mirror for application.
Available Shades: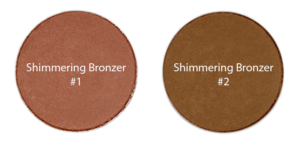 Pressed Bronzers
The Cosmetic Company's pressed bronzers are a great way to achieve a golden, shimmering, healthy year-round tan. Available in two shades of golden, apply product to your forehead, cheeks, and chin for a luminous glow. Our pressed bronzers are great to create a bronzing and illuminating 6 shade tray as they come in blush sized pans. Pair these with highlighters, 2 illuminators and 2 pressed bronzers to create the perfect Illuminating tray.
Available shades: ( as pictured from right to left) #3, #2
Available individually in blush sized jars or in a blush or illuminating tray.